Where to find the model code
On frames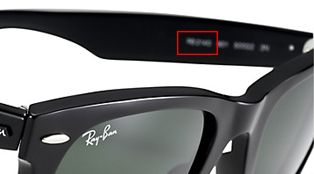 The model code is composed by the first 2 letters + 4 digits (e.g: RB3183) imprinted inside the left temple of a standard frame.
On the website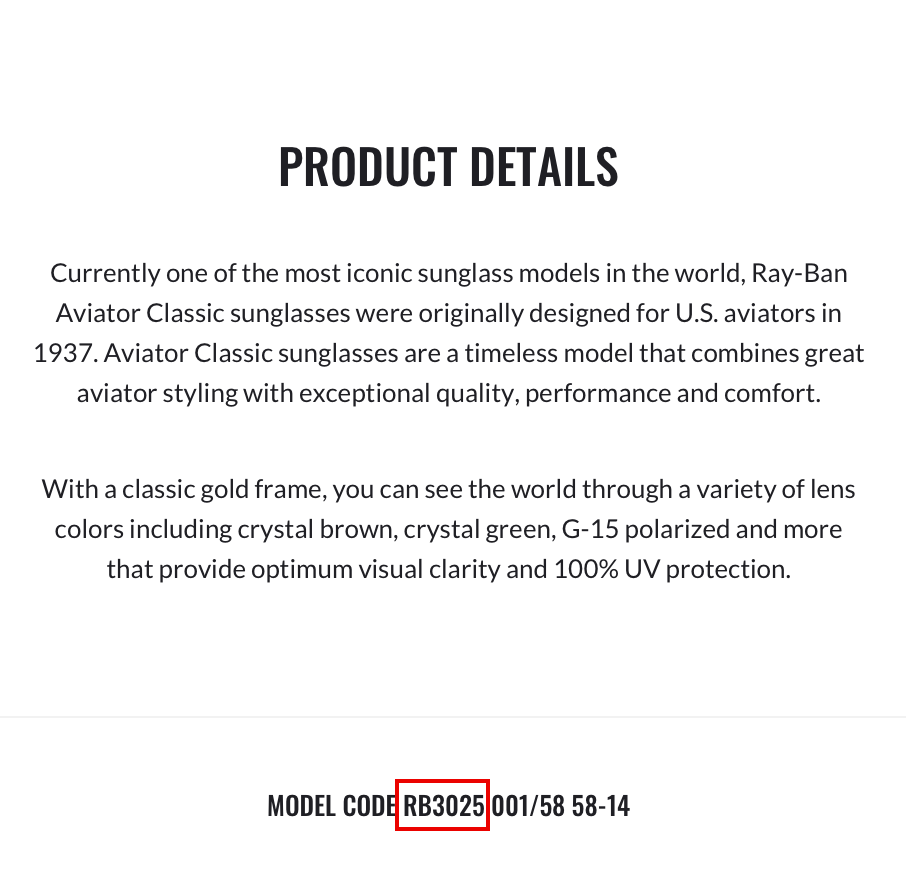 The model code is reported in any product detail page. It is composed by the first 2 letters + 4 digits (e.g: RB3183) of the code displayed in the image above.
The Bio-Acetate
Wayfarer
Forever shifting horizons, the Wayfarer takes a new direction once more. Just as iconic on the
outside, but different on the inside. This style is made with bio-based* materials.
We've been innovating lens technology since 1937. Today our journey continues with prescription.
OPTIMUM vision performance
We build your lenses alongside the frame, for a more precise fit that delivers clear vision at all angles.
frame & lenses made to match
Anti-reflective & Anti-scratch
ADVANCED LIGHT protection
Our collection of clear, sun and light-intelligent lenses features the latest innovations for every lifestyle.
100% UVA/UVB PROTECTION FOR CLEAR & SUN LENSES
BLUE-VIOLET LIGHT FILTERING ON CLEAR LENSES*
Indoor & outdoor cover with transitions® lenses
ORIGINAL STYLE
You don't have to compromise on style. Every lens is etched with the logo and is available in different thicknesses.
We accept most insurance plans, including the carriers shown below.
Add your insurance plan details at checkout to apply benefits directly – so you get the deduction up front.
Or save and submit your receipt to your insurance provider to get reimbursed later.
CHECK YOUR INSURANCE AVAILABILITY
How do I send my prescription?

We will ask for your prescription after check-out. You will be able to choose between 3 options:

upload
Upload
Scan or take a picture of your prescription and upload it in digital format.
mms
SMS
Take a clear picture of your prescription and text it to 58381.
mail
E-Mail
Scan or take a picture of your prescription and e-mail it to RXservice@ray-ban.com
*Bio-acetate is obtained by combining two main components: cellulose acetate (a polymer derived from cotton or wood pulp) and a bio-based plasticizer made from renewable sources (cereals, beet or sugar cane). The bio-based plasticizer is used in substitution for the traditional fossil-based plasticizer, increasing the overall bio-based content1 from renewable sources to 67%2. The percentage of bio-based carbon content indicates how much of the material mixture is obtained from renewable sources versus petrochemical or fossil sources.
1. Calculated using the ASTM D6866 international standard
2. Against the average bio-content of 40% of standard acetate
pickup-in-store
FREE PICK UP IN STORE
Shop online, find your nearest store
pickup-in-store
AFTER CARE IN STORE
Benefit from our team of experts
return
FREE & EASY RETURNS
By mail or in store
ruler-fit
PERFECT FIT
Free personalized adjustments

How do I see if a product is available in store?
On the product page, click on "Find in store". Then enter an address or city to search for the nearest store with the product available and add it to bag. We offer same-day collection for standard products, excluding prescription and custom styles.

What after care services are available in store?
Our store team are ready to assist you with every stage of your Ray-Ban journey. We offer eye exams, prescription care, free fittings & adjustments, and guidance on everything in our collection, from lens types to face shape.

How does Pick Up In Store work?
Simply select the pick up location you want your eyewear delivered to and complete the purchase. You'll be notified as soon as your product has arrived at the location. You'll need to present your ID card and order receipt at pick up.

Why should I choose Ray-Ban prescription lenses?
No one knows our frames and lenses as well as we do, so no one else can optimize them for your prescription quite like us. Every lens is made with innovative Digital Surface Technology for quality vision performance and engraved with our iconic signature for genuine style.




NEED FURTHER HELP?
CHECK OUR ONLINE AND IN-STORE SERVICES PAGE

Need help?