Where to find the model code
On frames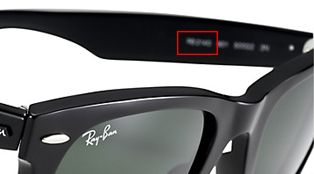 The model code is composed by the first 2 letters + 4 digits (e.g: RB3183) imprinted inside the left temple of a standard frame.
On the website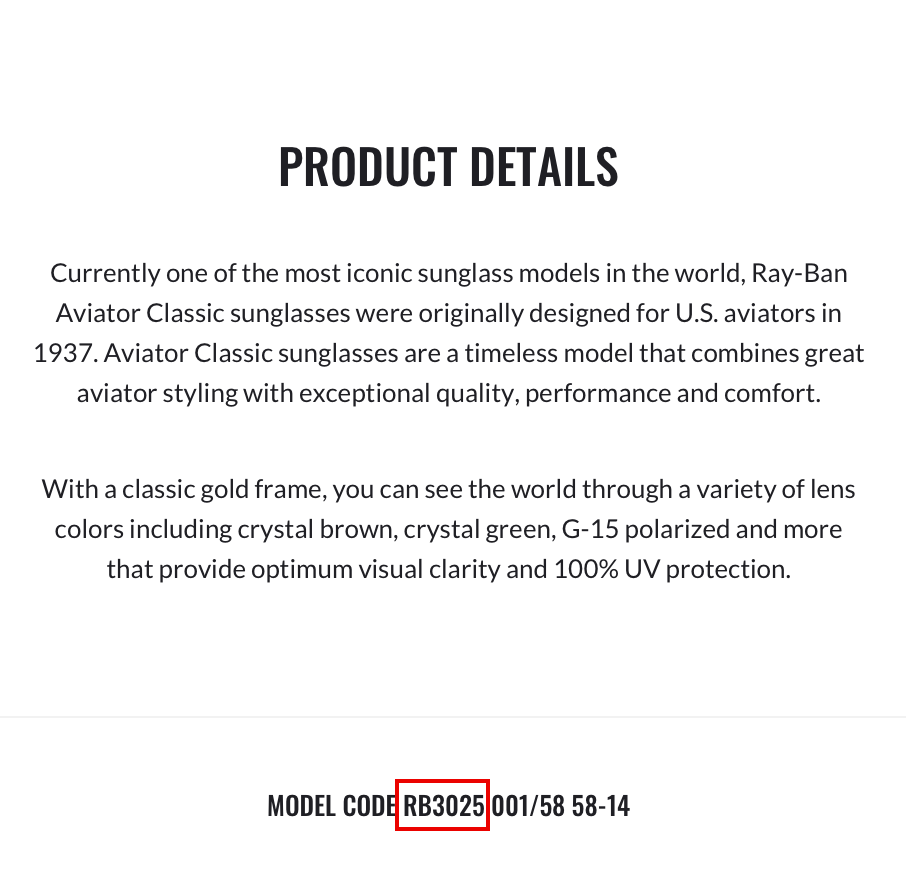 The model code is reported in any product detail page. It is composed by the first 2 letters + 4 digits (e.g: RB3183) of the code displayed in the image above.
FEATURES
DUAL 5MP CAMERA
Stay in the moment with built-in dual 5MP cameras. Automatic light adjustment and stereoscopic photo depth technology help you capture high quality content from a first-person perspective without ever looking down at your phone.
AUDIO
Discrete open-ear speakers allow you to seamlessly switch between taking a call and ordering a coffee. The 3 built-in microphones capture sound in all directions so you get rich voice and sound quality for calls and videos.
VOICE CONTROL
Just say, "Hey Facebook" to tell your glasses to take a photo, record a video, play and pause music, send a message, or make a call.
TOUCH CONTROL
Play your music, activate the camera, or connect with someone – all in a single touch with the hyper-responsive touchpad and capture button.
CHARGING CASE
Charge your frames on the go with the portable charging case. Fully charged glasses last up to 6 hours, and a fully charged carrying case provides 3 additional charges.
FACEBOOK VIEW APP
With the Facebook View app you can import and edit captures, create and share unique content, and manage settings. Download it from App Store or Google Play⁽²⁾.
ABOUT RAY-BAN STORIES | WAYFARER
From the rock revolution of the '60s, to the art scene of the '80s, to the forefront of hip-hop culture – Wayfarer has become an enduring icon across endlessly shifting horizons. Now the journey continues with the latest in wearable tech. Ray-Ban Stories Wayfarer integrates the best of your phone with the timeless frame, bringing you a new way to capture and share your adventures⁽¹⁾.

*Wayfarer Large is only available with sun and Transitions® lenses.
SEE MORE FROM STORIES
Discover all of the styles in the Ray-Ban | Meta collection.
FAQ
From content creation to maintenance, find everything
you need to know about Ray-Ban Stories in our dedicated support centre.
smart-glasses-new
GET STARTED IN STORE
We'll set up your smart glasses
return
FREE & EASY RETURNS
By mail
pickup-in-store
AFTER CARE IN STORE
Benefit from our team of experts

What after care services are available in store?
Our store team are ready to assist you with every stage of your Ray-Ban journey. We offer eye exams, prescription care, free fittings & adjustments, and guidance on everything in our collection, from lens types to face shape

Need Help?