Where to find the model code
On frames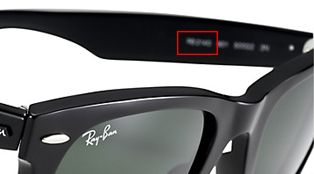 The model code is composed by the first 2 letters + 4 digits (e.g: RB3183) imprinted inside the left temple of a standard frame.
On the website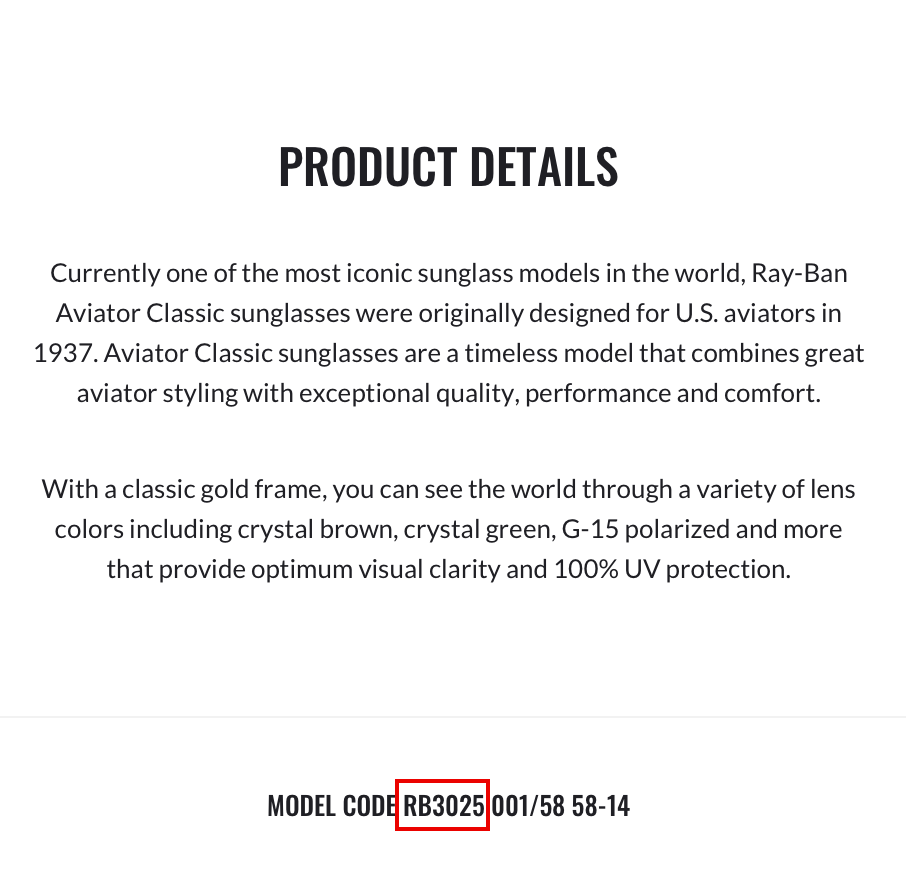 The model code is reported in any product detail page. It is composed by the first 2 letters + 4 digits (e.g: RB3183) of the code displayed in the image above.
FEATURES
DUAL 5MP CAMERA
Take photos and videos hands-free and stay immersed in the moment. Capture from a first-person perspective and enjoy consistently high quality content thanks to the automatic light adjustment and stereoscopic photo depth.
AUDIO
Discrete open-ear speakers allow you to seamlessly switch between taking a call and ordering a coffee. The 3 built-in microphones capture sound in all directions so you get rich voice and sound quality for calls and videos.
VOICE CONTROL
Just say, "Hey Facebook" to tell your glasses to take a photo, record a video, play and pause music, send a message, or make a call.
TOUCH CONTROL
Pause your song, take a photo or record a video in a single touch with the hyper-responsive touchpad and capture button.
CHARGING CASE
Charge your frames on the go with the compact, portable charging case. And a fully charged frame will capture and sync up to 30 videos, or up to 500 photos. 
FACEBOOK VIEW APP
With the Facebook View app you can import and edit captures, create and share unique content, and manage settings. Download it from App Store or Google Play⁽²⁾.
ABOUT RAY-BAN STORIES | METEOR
Originally created in the 60s as an angular interpretation of the classic Wayfarer, Meteor has evolved into a post-modern icon in its own right. Featuring distinct square wings and a bold bridge, it carves a unique shape in the crowd. And now, with the integration of Meta technology, Ray-Ban Stories Meteor has extra edge.
We've been innovating lens technology since 1937. Today our journey continues with prescription.
OPTIMUM vision performance
We build your lenses alongside the frame, for a more precise fit that delivers clear vision at all angles.
frame & lenses made to match
Anti-reflective & Anti-scratch
ADVANCED LIGHT protection
Our collection of clear, sun and light-intelligent lenses features the latest innovations for every lifestyle.
100% UVA/UVB PROTECTION FOR CLEAR & SUN LENSES
BLUE-VIOLET LIGHT FILTERING ON CLEAR LENSES*
Indoor & outdoor cover with transitions® lenses
ORIGINAL STYLE
You don't have to compromise on style. Every lens is etched with the logo and is available in different thicknesses.
How do I send my prescription?

We will ask for your prescription after check-out. You will be able to choose between 2 options:

upload
Upload
Scan or take a picture of your prescription and upload it in digital format.
mail
E-Mail
Scan or take a picture of your prescription and e-mail it to RXserviceAU@ray-ban.com
SEE MORE FROM STORIES
Discover all of the styles in the Ray-Ban | Meta collection.
FAQ
From content creation to maintenance, find everything
you need to know about Ray-Ban Stories in our dedicated support centre.
GET STARTED IN STORE
We'll set up your smart glasses
return
FREE & EASY RETURNS
By mail
pickup-in-store
AFTER CARE IN STORE
Benefit from our team of experts

What after care services are available in store?
Our store team are ready to assist you with every stage of your Ray-Ban journey. We offer eye exams, prescription care, free fittings & adjustments, and guidance on everything in our collection, from lens types to face shape.

Why should I choose Ray-Ban prescription lenses?
No one knows our frames and lenses as well as we do, so no one else can optimise them for your prescription quite like us. Every lens is made with innovative Digital Surface Technology for quality vision performance and engraved with our iconic signature for genuine style.

Need Help ?