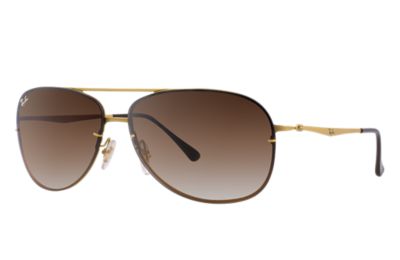 enlarge
TITANIUM MAN SUNGLASS
frame lens details
more details
Frame material:

lightray titanium

Frame color:

gold

Temple color:

gold

Lens treatment, color:

brown gradient
Shape:

pilot

Size lens-bridge:

61 13

Temple Length:

135

Can't find your size? Contact our Customer service.
Order now and receive by 03-18-2014
FREE delivery and FREE returns on all orders
Ray-Ban RB8052 Rb8052 Sunglasses | Ray-Ban USA
Shop Ray-Ban RB8052 Rb8052 sunglasses at the Ray-Ban USA online store. Free Overnight Shipping on all orders!
http://www.ray-ban.com/usa/sunglasses/RB8052-rb8052-gold/8053672125511
Ray-Ban
Gold
8053672125511
http://www.ray-ban.com/wcsstore/RayBanStorefrontAssetStore/images/ray-ban.png
Luxottica S.p.A.
RB8052
8053672125511
RB8052157/1361
5
1
RB8052
{"0RB8052157/13_61":{"catentryId": "47365","selectedSize": "61","styleSizes": { "size": [{"-code": "61","-SKU": "0RB8052157/13_61","-sizeLensFormatValue": ""}]},"polarized": "FALSE","lensTreatment": "GRADIENT","frameMaterial": "lightray titanium","frontInnerColor": "GOLD","frontOuterColor": "gold","templeInnerColor": "GOLD","templeOuterColor": "gold","lensColor": "brown","frameShape": "pilot","modelSize": "61","sizeLensBridge": "61 13","skuGridValue": "157/13","resolvedSkuGridLensBridgeVal": "RB8052","producType": "SUN","productCategory": "SUN","frameColor": "","virtualMirror": "","templeLength": "135","hurryUpValue": "","partNumber": 8053672125511,"style": "0RB8052157/1361","configToken": "","price": "$205.00","lensDescription": "brown gradient","frameDescription": "lightray titanium","shortDescription": "TITANIUM MAN SUNGLASS.","styleImpInfo": " New ","onSaleVal": "FALSE","offerPrice": "$205.00","listPrice": "","availabilityMessage": "Order now and receive by","availabilityDate": "03-18-2014","availability": "0","availabilityQty": "","buyable": "1","buyableqty": "341","virtualMirrorID": "rayban_rb8052_157_13","linkDetailsView": "http://www.ray-ban.com/usa/sunglasses/0RB8052-rb8052-/8053672125511","pdpMoreDetails1": "Can't find your size? ","pdpMoreDetails2": "Contact","pdpMoreDetails3": "our Customer service."},"0RB8052154/82_61":{"catentryId": "47363","selectedSize": "61","styleSizes": { "size": [{"-code": "61","-SKU": "0RB8052154/82_61","-sizeLensFormatValue": ""}]},"polarized": "POLARIZED","lensTreatment": "GRADIENT - MIRROR","frameMaterial": "lightray titanium","frontInnerColor": "GUNMETAL","frontOuterColor": "gunmetal","templeInnerColor": "GUNMETAL","templeOuterColor": "gunmetal","lensColor": "grey","frameShape": "pilot","modelSize": "61","sizeLensBridge": "61 13","skuGridValue": "154/82","resolvedSkuGridLensBridgeVal": "RB8052","producType": "SUN","productCategory": "SUN","frameColor": "","virtualMirror": "","templeLength": "135","hurryUpValue": "","partNumber": 8053672125528,"style": "0RB8052154/8261","configToken": "","price": "$235.00","lensDescription": "polarized, grey gradient - mirror","frameDescription": "lightray titanium","shortDescription": "TITANIUM MAN SUNGLASS.","styleImpInfo": " New ","onSaleVal": "FALSE","offerPrice": "$235.00","listPrice": "","availabilityMessage": "Order now and receive by","availabilityDate": "03-18-2014","availability": "0","availabilityQty": "","buyable": "1","buyableqty": "240","virtualMirrorID": "rayban_rb8052_154_82","linkDetailsView": "http://www.ray-ban.com/usa/sunglasses/0RB8052-rb8052-/8053672125528","pdpMoreDetails1": "Can't find your size? ","pdpMoreDetails2": "Contact","pdpMoreDetails3": "our Customer service."},"0RB8052158/83_61":{"catentryId": "47366","selectedSize": "61","styleSizes": { "size": [{"-code": "61","-SKU": "0RB8052158/83_61","-sizeLensFormatValue": ""}]},"polarized": "POLARIZED","lensTreatment": "SOLID COLOR","frameMaterial": "lightray titanium","frontInnerColor": "BROWN","frontOuterColor": "brown","templeInnerColor": "BROWN","templeOuterColor": "brown","lensColor": "brown","frameShape": "pilot","modelSize": "61","sizeLensBridge": "61 13","skuGridValue": "158/83","resolvedSkuGridLensBridgeVal": "RB8052","producType": "SUN","productCategory": "SUN","frameColor": "","virtualMirror": "","templeLength": "135","hurryUpValue": "","partNumber": 8053672125542,"style": "0RB8052158/8361","configToken": "","price": "$235.00","lensDescription": "polarized, brown solid color","frameDescription": "lightray titanium","shortDescription": "TITANIUM MAN SUNGLASS.","styleImpInfo": " New ","onSaleVal": "FALSE","offerPrice": "$235.00","listPrice": "","availabilityMessage": "Order now and receive by","availabilityDate": "03-18-2014","availability": "0","availabilityQty": "","buyable": "1","buyableqty": "437","virtualMirrorID": "rayban_rb8052_158_83","linkDetailsView": "http://www.ray-ban.com/usa/sunglasses/0RB8052-rb8052-/8053672125542","pdpMoreDetails1": "Can't find your size? ","pdpMoreDetails2": "Contact","pdpMoreDetails3": "our Customer service."},"0RB8052159/8G_61":{"catentryId": "47367","selectedSize": "61","styleSizes": { "size": [{"-code": "61","-SKU": "0RB8052159/8G_61","-sizeLensFormatValue": ""}]},"polarized": "FALSE","lensTreatment": "GRADIENT","frameMaterial": "lightray titanium","frontInnerColor": "GREY","frontOuterColor": "silver","templeInnerColor": "GREY","templeOuterColor": "silver","lensColor": "grey","frameShape": "pilot","modelSize": "61","sizeLensBridge": "61 13","skuGridValue": "159/8G","resolvedSkuGridLensBridgeVal": "RB8052","producType": "SUN","productCategory": "SUN","frameColor": "","virtualMirror": "","templeLength": "135","hurryUpValue": "","partNumber": 8053672125559,"style": "0RB8052159/8G61","configToken": "","price": "$205.00","lensDescription": "gray gradient gradient","frameDescription": "lightray titanium","shortDescription": "TITANIUM MAN SUNGLASS.","styleImpInfo": " New ","onSaleVal": "FALSE","offerPrice": "$205.00","listPrice": "","availabilityMessage": "Order now and receive by","availabilityDate": "03-18-2014","availability": "0","availabilityQty": "","buyable": "1","buyableqty": "143","virtualMirrorID": "rayban_rb8052_159_8g","linkDetailsView": "http://www.ray-ban.com/usa/sunglasses/0RB8052-rb8052-/8053672125559","pdpMoreDetails1": "Can't find your size? ","pdpMoreDetails2": "Contact","pdpMoreDetails3": "our Customer service."},"0RB8052154/9A_61":{"catentryId": "47364","selectedSize": "61","styleSizes": { "size": [{"-code": "61","-SKU": "0RB8052154/9A_61","-sizeLensFormatValue": ""}]},"polarized": "POLARIZED","lensTreatment": "SOLID COLOR","frameMaterial": "lightray titanium","frontInnerColor": "GUNMETAL","frontOuterColor": "gunmetal","templeInnerColor": "GUNMETAL","templeOuterColor": "gunmetal","lensColor": "green","frameShape": "pilot","modelSize": "61","sizeLensBridge": "61 13","skuGridValue": "154/9A","resolvedSkuGridLensBridgeVal": "RB8052","producType": "SUN","productCategory": "SUN","frameColor": "","virtualMirror": "","templeLength": "135","hurryUpValue": "","partNumber": 8053672125535,"style": "0RB8052154/9A61","configToken": "","price": "$235.00","lensDescription": "polarized, green solid color","frameDescription": "lightray titanium","shortDescription": "TITANIUM MAN SUNGLASS.","styleImpInfo": " New ","onSaleVal": "FALSE","offerPrice": "$235.00","listPrice": "","availabilityMessage": "Order now and receive by","availabilityDate": "03-18-2014","availability": "0","availabilityQty": "","buyable": "1","buyableqty": "596","virtualMirrorID": "rayban_rb8052_154_9a","linkDetailsView": "http://www.ray-ban.com/usa/sunglasses/0RB8052-rb8052-/8053672125535","pdpMoreDetails1": "Can't find your size? ","pdpMoreDetails2": "Contact","pdpMoreDetails3": "our Customer service."}}
http://assets.ray-ban.com/is/image/RayBan/
_shad_qt?$594$
Ray-Ban 0RB8052 - RB8052
SUN