Ray-Ban Aviator Titanium Gold ,Polarized Lenses - RB8041 | Ray-Ban® USA
Shop Ray-Ban Aviator Titanium Gold ,Polarized Lenses -RB8041 at Ray-Ban® USA. Free shipping and free returns on all orders
FRONT_COLOR
805289394396
http://www.ray-ban.com/wcsstore/RayBanStorefrontAssetStore/images/ray-ban.png
805289394396
RB8041001/M258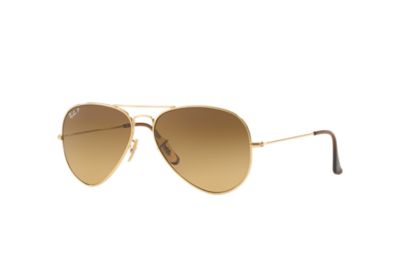 zoom
This product is not available at the moment.
But it is ready for you to
FREE shipping and FREE returns
Frame color: Gold
Temple color: gold
Aviator Titanium is the strongest addition to the Aviator family, literally. Made of titanium metal, Aviator Titanium RB8041 is stronger and more durable than the Aviator Classic, while still maintaining its iconic look and lightweight feel. Because titanium has the highest strength-to-density ratio of any metal, these sunglasses offer ultimate strength for the lightest possible weight. Titanium sunglasses are highly resistant to corrosion in sea water and chlorine and are hypo-allergenic, making them friendly for those with sensitive skin. These unisex sunglasses look great on all face shapes and are designed with slightly more protective coverage, which especially accommodates larger face shapes. This model offers the classic details like slim temples and the trademark double brow, but embellished in durable titanium.
Shape:

pilot

Size lens-bridge:

58 14

Temple Length:

135
{"0RB8041086/M3_58":{"catentryId": "38708","selectedSize": "Standard","styleSizes": { "size": [{"-code": "Standard","-SKU": "0RB8041086/M3_58","-sizeLensFormatValue": "58 14"}]},"polarized": "POLARIZED","lensTreatment": "Gradient","frameMaterial": "titanium","frontInnerColor": "Silver","frontOuterColor": "silver","templeInnerColor": "Silver","templeOuterColor": "silver","lensColor": "grey","frameShape": "pilot","modelSize": "58","isremixable": "nonremixable","enableCustomizeAndBuy": "FALSE","sizeLensBridge": "58 14","skuGridValue": "086/M3","resolvedSkuGridLensBridgeVal": "RB8041","modelName": "AVIATOR TITANIUM","producType": "SUN","productCategory": "SUN","frameColor": "Silver","virtualMirror": "TRUE","templeLength": "135","newRelease": "FALSE","hurryUpValue": "","partNumber": "805289394419","style": "0RB8041086/M358","configToken": "","price": "$285.00","multiplePriceMessage":"","lensDescription": "polarized grey gradient","frameDescription": "silver, titanium","shortDescription": "","longDescription": "<p class="wcs-half-top wcs-add-bottom"><b style="font-weight:bold">Aviator Titanium </b> is the strongest addition to the <a href="http://www.ray-ban.com/usa/sunglasses/aviator/clv" style="text-decoration:underline">Aviator</a> family, literally. Made of titanium metal, <b style="font-weight:bold">Aviator Titanium RB8041</b> is stronger and more durable than the <a href="http://www.ray-ban.com/usa/sunglasses/RB3025 MALE 113-aviator classic-gold/805289602057" style="text-decoration:underline">Aviator Classic</a>, while still maintaining its iconic look and lightweight feel. Because titanium has the highest strength-to-density ratio of any metal, these sunglasses offer ultimate strength for the lightest possible weight. Titanium sunglasses are highly resistant to corrosion in sea water and chlorine and are hypo-allergenic, making them friendly for those with sensitive skin. These unisex <a href="http://www.ray-ban.com/usa/sunglasses/clp" style="text-decoration:underline">sunglasses</a> look great on all face shapes and are designed with slightly more protective coverage, which especially accommodates larger face shapes. This model offers the classic details like slim temples and the trademark double brow, but embellished in durable titanium. </p>","styleImpInfo": " POLARIZED Grey Gradient ","styleNewInfo": " FALSE ","onSaleVal": "FALSE","offerPrice": "$285.00","listPrice": "","preorderval": "0","availabilityMessage": "Available soon","availabilityDate": "","availability": "3","addToBagFlag": "N","preOrderFlag": "","preorderval": "","emailLinkFlag": "Y","shippingIndicator": "U","availabilityQty": "","buyable": "1","buyableqty": "0","virtualMirrorID": "rayban_rb8041_086_m3_58","linkDetailsView": "http://www.ray-ban.com/usa/sunglasses/RB8041 MALE 003-aviator titanium-silver/805289394419","remixURLJSON": "http://www.ray-ban.com/usa/customize/","pdpMoreDetails1": "Can't find your size? ","pdpMoreDetails2": "Contact","pdpMoreDetails3": "our Customer service."},"0RB8041001/M2_58":{"catentryId": "38707","selectedSize": "Standard","styleSizes": { "size": [{"-code": "Standard","-SKU": "0RB8041001/M2_58","-sizeLensFormatValue": "58 14"}]},"polarized": "POLARIZED","lensTreatment": "Gradient","frameMaterial": "titanium","frontInnerColor": "Gold","frontOuterColor": "gold","templeInnerColor": "Gold","templeOuterColor": "gold","lensColor": "brown","frameShape": "pilot","modelSize": "58","isremixable": "nonremixable","enableCustomizeAndBuy": "FALSE","sizeLensBridge": "58 14","skuGridValue": "001/M2","resolvedSkuGridLensBridgeVal": "RB8041","modelName": "AVIATOR TITANIUM","producType": "SUN","productCategory": "SUN","frameColor": "Gold","virtualMirror": "TRUE","templeLength": "135","newRelease": "FALSE","hurryUpValue": "","partNumber": "805289394396","style": "0RB8041001/M258","configToken": "","price": "$285.00","multiplePriceMessage":"","lensDescription": "polarized brown gradient","frameDescription": "gold, titanium","shortDescription": "","longDescription": "<p class="wcs-half-top wcs-add-bottom"><b style="font-weight:bold">Aviator Titanium </b> is the strongest addition to the <a href="http://www.ray-ban.com/usa/sunglasses/aviator/clv" style="text-decoration:underline">Aviator</a> family, literally. Made of titanium metal, <b style="font-weight:bold">Aviator Titanium RB8041</b> is stronger and more durable than the <a href="http://www.ray-ban.com/usa/sunglasses/RB3025 MALE 113-aviator classic-gold/805289602057" style="text-decoration:underline">Aviator Classic</a>, while still maintaining its iconic look and lightweight feel. Because titanium has the highest strength-to-density ratio of any metal, these sunglasses offer ultimate strength for the lightest possible weight. Titanium sunglasses are highly resistant to corrosion in sea water and chlorine and are hypo-allergenic, making them friendly for those with sensitive skin. These unisex <a href="http://www.ray-ban.com/usa/sunglasses/clp" style="text-decoration:underline">sunglasses</a> look great on all face shapes and are designed with slightly more protective coverage, which especially accommodates larger face shapes. This model offers the classic details like slim temples and the trademark double brow, but embellished in durable titanium. </p>","styleImpInfo": " POLARIZED Brown Gradient ","styleNewInfo": " FALSE ","onSaleVal": "FALSE","offerPrice": "$285.00","listPrice": "","preorderval": "0","availabilityMessage": "Available soon","availabilityDate": "","availability": "3","addToBagFlag": "N","preOrderFlag": "","preorderval": "","emailLinkFlag": "Y","shippingIndicator": "U","availabilityQty": "","buyable": "1","buyableqty": "0","virtualMirrorID": "rayban_rb8041_001_m2_58","linkDetailsView": "http://www.ray-ban.com/usa/sunglasses/RB8041 MALE 002-aviator titanium-gold/805289394396","remixURLJSON": "http://www.ray-ban.com/usa/customize/","pdpMoreDetails1": "Can't find your size? ","pdpMoreDetails2": "Contact","pdpMoreDetails3": "our Customer service."},"0RB8041001_58":{"catentryId": "38706","selectedSize": "Standard","styleSizes": { "size": [{"-code": "Standard","-SKU": "0RB8041001_58","-sizeLensFormatValue": "58 14"}]},"polarized": "FALSE","lensTreatment": "Classic G-15","frameMaterial": "titanium","frontInnerColor": "Gold","frontOuterColor": "gold","templeInnerColor": "Gold","templeOuterColor": "gold","lensColor": "green","frameShape": "pilot","modelSize": "58","isremixable": "nonremixable","enableCustomizeAndBuy": "FALSE","sizeLensBridge": "58 14","skuGridValue": "001 ","resolvedSkuGridLensBridgeVal": "RB8041","modelName": "AVIATOR TITANIUM","producType": "SUN","productCategory": "SUN","frameColor": "Gold","virtualMirror": "TRUE","templeLength": "135","newRelease": "FALSE","hurryUpValue": "","partNumber": "805289394358","style": "0RB804100158","configToken": "","price": "$175.00","multiplePriceMessage":"","lensDescription": "green classic g-15","frameDescription": "gold, titanium","shortDescription": "","longDescription": "<p class="wcs-half-top wcs-add-bottom"><b style="font-weight:bold">Aviator Titanium </b> is the strongest addition to the <a href="http://www.ray-ban.com/usa/sunglasses/aviator/clv" style="text-decoration:underline">Aviator</a> family, literally. Made of titanium metal, <b style="font-weight:bold">Aviator Titanium RB8041</b> is stronger and more durable than the <a href="http://www.ray-ban.com/usa/sunglasses/RB3025 MALE 113-aviator classic-gold/805289602057" style="text-decoration:underline">Aviator Classic</a>, while still maintaining its iconic look and lightweight feel. Because titanium has the highest strength-to-density ratio of any metal, these sunglasses offer ultimate strength for the lightest possible weight. Titanium sunglasses are highly resistant to corrosion in sea water and chlorine and are hypo-allergenic, making them friendly for those with sensitive skin. These unisex <a href="http://www.ray-ban.com/usa/sunglasses/clp" style="text-decoration:underline">sunglasses</a> look great on all face shapes and are designed with slightly more protective coverage, which especially accommodates larger face shapes. This model offers the classic details like slim temples and the trademark double brow, but embellished in durable titanium. </p>","styleImpInfo": " Green Classic G-15 ","styleNewInfo": " FALSE ","onSaleVal": "FALSE","offerPrice": "$175.00","listPrice": "","preorderval": "0","availabilityMessage": "Available soon","availabilityDate": "","availability": "3","addToBagFlag": "N","preOrderFlag": "","preorderval": "","emailLinkFlag": "Y","shippingIndicator": "U","availabilityQty": "","buyable": "1","buyableqty": "0","virtualMirrorID": "rayban_rb8041_001_58","linkDetailsView": "http://www.ray-ban.com/usa/sunglasses/RB8041 MALE 005-aviator titanium-gold/805289394358","remixURLJSON": "http://www.ray-ban.com/usa/customize/","pdpMoreDetails1": "Can't find your size? ","pdpMoreDetails2": "Contact","pdpMoreDetails3": "our Customer service."}}
http://assets.ray-ban.com/is/image/RayBan/
_shad_qt?$594$
Ray-Ban RB8041 - AVIATOR TITANIUM
SUN