Ray-Ban Aviator Ultra Gold ,Polarized Lenses - RB8029K | Ray-Ban® USA
FRONT_COLOR
805289293378
http://www.ray-ban.com/wcsstore/RayBanStorefrontAssetStore/images/ray-ban.png
805289293378
RB8029K040KN358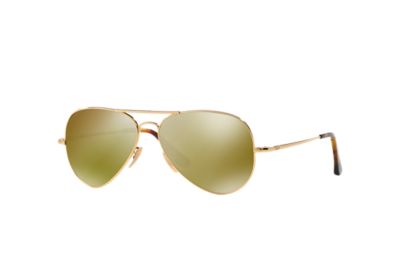 zoom
Sorry, this product is no longer available.
But it is ready for you to
FREE shipping and FREE returns
Frame color: Gold
Temple color: gold
Ray Ban Aviator Ultra is a limited edition line that takes the Aviator Classic and dips it in luxury. This iconic sunglass style is made of solid titanium and is plated with yellow or white 18k gold, making it a true collector's item. Titanium metal is stronger and more durable compared to traditional sunglasses materials and is also highly resistant to corrosion from sea water or chlorine. The polarized lenses of the Aviator Ultra RB8029K are enhanced with a hydro-oleophobic coating which allows moisture to slide off the lens, improved color visibility and 100% UV protection. Furthermore, an 18k gold-plated Ray-Ban signature is engraved on the temples making this sunglass style one of a kind. This model is available for a limited time only.
Shape:

pilot

Size lens-bridge:

58 14

Temple Length:

140
{"0RB8029K040KN3_58":{"catentryId": "38692","selectedSize": "Standard","styleSizes": { "size": [{"-code": "Standard","-SKU": "0RB8029K040KN3_58","-sizeLensFormatValue": "58 14"}]},"polarized": "POLARIZED","lensTreatment": "Mirror","frameMaterial": "premium materials","frontInnerColor": "Gold","frontOuterColor": "gold","templeInnerColor": "Gold","templeOuterColor": "gold","lensColor": "gold","frameShape": "pilot","modelSize": "58","isremixable": "nonremixable","enableCustomizeAndBuy": "FALSE","sizeLensBridge": "58 14","skuGridValue": "040KN3","resolvedSkuGridLensBridgeVal": "RB8029K","modelName": "AVIATOR ULTRA","producType": "SUN","productCategory": "SUN","frameColor": "Gold","virtualMirror": "TRUE","templeLength": "140","newRelease": "FALSE","hurryUpValue": "","partNumber": "805289293378","style": "0RB8029K040KN358","configToken": "","price": "$405.00","multiplePriceMessage":"","lensDescription": "polarized gold mirror","frameDescription": "gold, premium materials","shortDescription": "","longDescription": "<p class="wcs-half-top wcs-add-bottom">Ray Ban <b style="font-weight:bold">Aviator Ultra</b> is a limited edition line that takes the <a href="http://www.ray-ban.com/usa/sunglasses/RB3025 MALE 113-aviator classic-gold/805289602057" style="text-decoration:underline">Aviator Classic</a> and dips it in luxury. This <a href="http://www.ray-ban.com/usa/sunglasses/icons/plp" style="text-decoration:underline">iconic</a> sunglass style is made of solid titanium and is plated with yellow or white 18k gold, making it a true collector's item. Titanium metal is stronger and more durable compared to traditional <a href="http://www.ray-ban.com/usa/sunglasses/clp" style="text-decoration:underline">sunglasses</a> materials and is also highly resistant to corrosion from sea water or chlorine. The <a href="http://www.ray-ban.com/usa/sunglasses/polarized/plp" style="text-decoration:underline">polarized</a> lenses of the <b style="font-weight:bold">Aviator Ultra RB8029K</b> are enhanced with a hydro-oleophobic coating which allows moisture to slide off the lens, improved color visibility and 100% UV protection. Furthermore, an 18k gold-plated Ray-Ban signature is engraved on the temples making this sunglass style one of a kind. This model is available for a limited time only. </p>","styleImpInfo": " POLARIZED Gold Mirror ","styleNewInfo": " FALSE ","onSaleVal": "FALSE","offerPrice": "$405.00","listPrice": "","preorderval": "0","availabilityMessage": "Not sellable","availabilityDate": "","availability": "4","addToBagFlag": "N","preOrderFlag": "","preorderval": "","emailLinkFlag": "Y","shippingIndicator": "N","availabilityQty": "","buyable": "1","buyableqty": "0","virtualMirrorID": "rayban_rb8029k_040kn3_58","linkDetailsView": "http://www.ray-ban.com/usa/sunglasses/RB8029K MALE 003-aviator ultra-gold/805289293378","remixURLJSON": "http://www.ray-ban.com/usa/customize/","pdpMoreDetails1": "Can't find your size? ","pdpMoreDetails2": "Contact","pdpMoreDetails3": "our Customer service."}}
http://assets.ray-ban.com/is/image/RayBan/
_shad_qt?$594$
Ray-Ban RB8029K - AVIATOR ULTRA
SUN