Ray-Ban Emma Light Blue , RB4167 | Ray-Ban® USA
Shop Ray-Ban Emma Light Blue ,RB4167 at Ray-Ban® USA. Free shipping and free returns on all orders
FRONT_COLOR
805289526162
http://www.ray-ban.com/wcsstore/RayBanStorefrontAssetStore/images/ray-ban.png
805289526162
RB4167848/4L59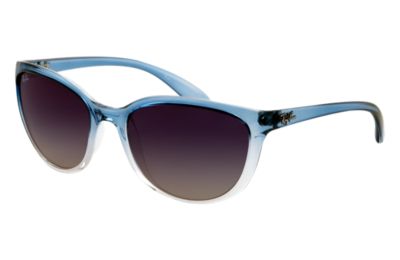 zoom
This product is not available at the moment.
But it is ready for you to
FREE shipping and FREE returns
Frame color: Light Blue
Temple color: light blue
The latest in women's sunglasses joins the Cats family in the form of the Ray-Ban Emma. These trendy cat-eye sunglasses are especially made for women wishing to strut a bold and effortless style. The durable nylon material of the Emma RB4167 features a unique multi-tone color effect that will match your wardrobe with ease. These high-fashion sunglasses are the statement-making piece that complete any look and look great on all face-shapes and sizes. Emma sunglasses are available in dazzling transparent red and ageless tortoise frames with lenses that are prescription-friendly.
Frame material:

nylon

Frame color: Light Blue

Lenses:

blue gradient
Shape:

pilot

Size lens-bridge:

59 20

Temple Length:

130
{"0RB4167848/4L_59":{"catentryId": "37157","selectedSize": "Standard","styleSizes": { "size": [{"-code": "Standard","-SKU": "0RB4167848/4L_59","-sizeLensFormatValue": "59 20"}]},"polarized": "FALSE","lensTreatment": "Gradient","frameMaterial": "nylon","frontInnerColor": "Light Blue","frontOuterColor": "light blue","templeInnerColor": "Light Blue","templeOuterColor": "light blue","lensColor": "blue","frameShape": "pilot","modelSize": "59","isremixable": "nonremixable","enableCustomizeAndBuy": "FALSE","sizeLensBridge": "59 20","skuGridValue": "848/4L","resolvedSkuGridLensBridgeVal": "RB4167","modelName": "EMMA","producType": "SUN","productCategory": "SUN","frameColor": "Light Blue","virtualMirror": "TRUE","templeLength": "130","newRelease": "FALSE","hurryUpValue": "","partNumber": "805289526162","style": "0RB4167848/4L59","configToken": "","price": "$115.00","multiplePriceMessage":"","lensDescription": "blue gradient","frameDescription": "light blue, nylon","shortDescription": "","longDescription": "<p class="wcs-half-top wcs-add-bottom">The latest in women's sunglasses joins the <a href="http://www.ray-ban.com/usa/sunglasses/RB4125 MALE 018-cats 5000 classic-tortoise/805289288695" style="text-decoration:underline">Cats</a> family in the form of the Ray-Ban <b style="font-weight:bold">Emma.</b> These trendy cat-eye sunglasses are especially made for women wishing to strut a bold and effortless style. The durable nylon material of the <b style="font-weight:bold">Emma RB4167</b> features a unique multi-tone color effect that will match your wardrobe with ease. These high-fashion <a href="http://www.ray-ban.com/usa/sunglasses/clp" style="text-decoration:underline">sunglasses</a> are the statement-making piece that complete any look and look great on all face-shapes and sizes. Emma sunglasses are available in dazzling transparent red and ageless tortoise frames with lenses that are <a href="http://www.ray-ban.com/usa/eyeglasses/clp" style="text-decoration:underline">prescription</a>-friendly. </p>","styleImpInfo": " Blue Gradient ","styleNewInfo": " FALSE ","onSaleVal": "FALSE","offerPrice": "$115.00","listPrice": "","preorderval": "0","availabilityMessage": "Available soon","availabilityDate": "","availability": "3","addToBagFlag": "N","preOrderFlag": "","preorderval": "","emailLinkFlag": "Y","shippingIndicator": "U","availabilityQty": "","buyable": "1","buyableqty": "0","virtualMirrorID": "rayban_rb4167_848_4l_59","linkDetailsView": "http://www.ray-ban.com/usa/sunglasses/RB4167 CHILD 004-emma-light blue/805289526162","remixURLJSON": "http://www.ray-ban.com/usa/customize/","pdpMoreDetails1": "Can't find your size? ","pdpMoreDetails2": "Contact","pdpMoreDetails3": "our Customer service."},"0RB4167851/13_59":{"catentryId": "37158","selectedSize": "Standard","styleSizes": { "size": [{"-code": "Standard","-SKU": "0RB4167851/13_59","-sizeLensFormatValue": "59 20"}]},"polarized": "FALSE","lensTreatment": "Gradient","frameMaterial": "nylon","frontInnerColor": "Light Brown","frontOuterColor": "light brown","templeInnerColor": "Light Brown","templeOuterColor": "light brown","lensColor": "brown","frameShape": "pilot","modelSize": "59","isremixable": "nonremixable","enableCustomizeAndBuy": "FALSE","sizeLensBridge": "59 20","skuGridValue": "851/13","resolvedSkuGridLensBridgeVal": "RB4167","modelName": "EMMA","producType": "SUN","productCategory": "SUN","frameColor": "Light Brown","virtualMirror": "TRUE","templeLength": "130","newRelease": "FALSE","hurryUpValue": "","partNumber": "805289526193","style": "0RB4167851/1359","configToken": "","price": "$115.00","multiplePriceMessage":"","lensDescription": "brown gradient","frameDescription": "light brown, nylon","shortDescription": "","longDescription": "<p class="wcs-half-top wcs-add-bottom">The latest in women's sunglasses joins the <a href="http://www.ray-ban.com/usa/sunglasses/RB4125 MALE 018-cats 5000 classic-tortoise/805289288695" style="text-decoration:underline">Cats</a> family in the form of the Ray-Ban <b style="font-weight:bold">Emma.</b> These trendy cat-eye sunglasses are especially made for women wishing to strut a bold and effortless style. The durable nylon material of the <b style="font-weight:bold">Emma RB4167</b> features a unique multi-tone color effect that will match your wardrobe with ease. These high-fashion <a href="http://www.ray-ban.com/usa/sunglasses/clp" style="text-decoration:underline">sunglasses</a> are the statement-making piece that complete any look and look great on all face-shapes and sizes. Emma sunglasses are available in dazzling transparent red and ageless tortoise frames with lenses that are <a href="http://www.ray-ban.com/usa/eyeglasses/clp" style="text-decoration:underline">prescription</a>-friendly. </p>","styleImpInfo": " Brown Gradient ","styleNewInfo": " FALSE ","onSaleVal": "FALSE","offerPrice": "$115.00","listPrice": "","preorderval": "0","availabilityMessage": "Available soon","availabilityDate": "","availability": "3","addToBagFlag": "N","preOrderFlag": "","preorderval": "","emailLinkFlag": "Y","shippingIndicator": "U","availabilityQty": "","buyable": "1","buyableqty": "0","virtualMirrorID": "rayban_rb4167_851_13_59","linkDetailsView": "http://www.ray-ban.com/usa/sunglasses/RB4167 CHILD 005-emma-light brown/805289526193","remixURLJSON": "http://www.ray-ban.com/usa/customize/","pdpMoreDetails1": "Can't find your size? ","pdpMoreDetails2": "Contact","pdpMoreDetails3": "our Customer service."}}
http://assets.ray-ban.com/is/image/RayBan/
_shad_qt?$594$
Ray-Ban RB4167 - EMMA
SUN