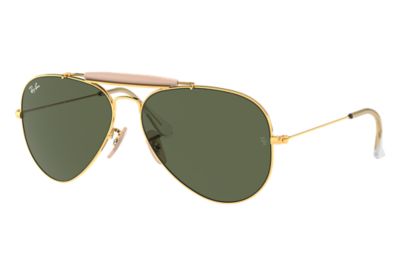 zoom
Ray-Ban RB3029 L2112 62-14 Outdoorsman Ii Sunglasses | Ray-Ban USA

http://www.ray-ban.com/usa/sunglasses/RB3029 MALE 003-outdoorsman ii-gold/805289621126

Gold

805289621126

http://www.ray-ban.com/wcsstore/RayBanStorefrontAssetStore/images/ray-ban.png

OUTDOORSMAN II

805289621126

RB3029L211262
This product is not available at the moment.
But it is ready for you to
FREE overnight shipping and FREE returns
Frame color: Gold
Temple color: gold
A unique take on the Aviator Classic, Ray Ban Outdoorsman II features similar iconic features, yet appears highly distinctive. The enhanced decorative brow bar creates a more intense focus on the shape and sets this sunglass style apart from the rest. The Outdoorsman II RB3029 sunglasses can be worn with solid black or gold lightweight frames and are prescription friendly. These sunglasses are fashionable, highly protective with 100% UV protection and allow you to see the world with optimum visual clarity through a variety of crystal lens options.
Shape:

pilot

Size lens-bridge:

62 14

Temple Length:

140

Can't find your size? Contact our Customer service.
{"0RB3029L2112_62":{"catentryId": "39653","selectedSize": "Standard","styleSizes": { "size": [{"-code": "Standard","-SKU": "0RB3029L2112_62","-sizeLensFormatValue": "62 14"}]},"polarized": "FALSE","lensTreatment": "Classic G-15","frameMaterial": "metal","frontInnerColor": "Gold","frontOuterColor": "gold","templeInnerColor": "Gold","templeOuterColor": "gold","lensColor": "green","frameShape": "pilot","modelSize": "62","isremixable": "nonremixable","enableCustomizeAndBuy": "FALSE","sizeLensBridge": "62 14","skuGridValue": "L2112 ","resolvedSkuGridLensBridgeVal": "RB3029","modelName": "OUTDOORSMAN II","producType": "SUN","productCategory": "SUN","frameColor": "Gold","virtualMirror": "","templeLength": "140","newRelease": "FALSE","hurryUpValue": "","partNumber": "805289621126","style": "0RB3029L2112 62","configToken": "","price": "$150.00","multiplePriceMessage":"","lensDescription": "green classic g-15","frameDescription": "gold, metal","shortDescription": "","styleImpInfo": " Green Classic G-15 ","styleNewInfo": " FALSE ","onSaleVal": "FALSE","offerPrice": "$150.00","listPrice": "","preorderval": "","availabilityMessage": "Usually ships within 3 weeks","availabilityDate": "","availability": "2","addToBagFlag": "N","preOrderFlag": "","preorderval": "","emailLinkFlag": "N","shippingIndicator": "O","availabilityQty": "Hurry,only 1 left.","buyable": "1","buyableqty": "1","virtualMirrorID": "rayban_rb3029__l2112_l2112","linkDetailsView": "http://www.ray-ban.com/usa/sunglasses/RB3029 MALE 003-outdoorsman ii-gold/805289621126","remixURLJSON": "http://www.ray-ban.com/usa/customize/","pdpMoreDetails1": "Can't find your size? ","pdpMoreDetails2": "Contact","pdpMoreDetails3": "our Customer service."},"0RB3029L2114_62":{"catentryId": "39654","selectedSize": "Standard","styleSizes": { "size": [{"-code": "Standard","-SKU": "0RB3029L2114_62","-sizeLensFormatValue": "62 14"}]},"polarized": "FALSE","lensTreatment": "Classic G-15","frameMaterial": "metal","frontInnerColor": "Black","frontOuterColor": "black","templeInnerColor": "Black","templeOuterColor": "black","lensColor": "green","frameShape": "pilot","modelSize": "62","isremixable": "nonremixable","enableCustomizeAndBuy": "FALSE","sizeLensBridge": "62 14","skuGridValue": "L2114 ","resolvedSkuGridLensBridgeVal": "RB3029","modelName": "OUTDOORSMAN II","producType": "SUN","productCategory": "SUN","frameColor": "Black","virtualMirror": "","templeLength": "140","newRelease": "FALSE","hurryUpValue": "","partNumber": "805289621140","style": "0RB3029L2114 62","configToken": "","price": "$150.00","multiplePriceMessage":"","lensDescription": "green classic g-15","frameDescription": "black, metal","shortDescription": "","styleImpInfo": " Green Classic G-15 ","styleNewInfo": " FALSE ","onSaleVal": "FALSE","offerPrice": "$150.00","listPrice": "","preorderval": "","availabilityMessage": "Available soon","availabilityDate": "","availability": "3","addToBagFlag": "N","preOrderFlag": "","preorderval": "","emailLinkFlag": "Y","shippingIndicator": "U","availabilityQty": "","buyable": "1","buyableqty": "0","virtualMirrorID": "rayban_rb3029__l2112_l2114","linkDetailsView": "http://www.ray-ban.com/usa/sunglasses/RB3029 MALE 004-outdoorsman ii-black/805289621140","remixURLJSON": "http://www.ray-ban.com/usa/customize/","pdpMoreDetails1": "Can't find your size? ","pdpMoreDetails2": "Contact","pdpMoreDetails3": "our Customer service."}}
http://assets.ray-ban.com/is/image/RayBan/
_shad_qt?$594$
Ray-Ban RB3029 - OUTDOORSMAN II
SUN