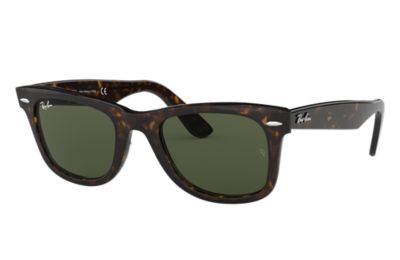 enlarge
ACETATE UNISEX SUNGLASS
frame lens details
more details
Shape:

square

Size lens-bridge:

50 22

Temple Length:

150

Can't find your size? Contact our Customer service.
Order now and receive by 03-14-2014
FREE delivery and FREE returns on all orders
Ray-Ban RB2140 Original Wayfarer Classic Sunglasses | Ray-Ban CA
http://www.ray-ban.com/canada/en/sunglasses/RB2140 unisex 2-original wayfarer classic-tortoise/805289126638
4.8636
Ray-Ban
TORTOISE
805289126638
http://www.ray-ban.com/wcsstore/RayBanStorefrontAssetStore/images/ray-ban.png
Luxottica S.p.A.
ORIGINAL WAYFARER CLASSIC
805289126638
RB214090250
4.8636
5
1
ORIGINAL WAYFARER CLASSIC
22
22
{"0RB2140902_50":{"catentryId": "39697","selectedSize": "50","styleSizes": { "size": [{"-code": "50","-SKU": "0RB2140902_50","-sizeLensFormatValue": ""}]},"polarized": "FALSE","lensTreatment": "SOLID COLOR","frameMaterial": "acetate","frontInnerColor": "TORTOISE","frontOuterColor": "tortoise","templeInnerColor": "TORTOISE","templeOuterColor": "tortoise","lensColor": "green","frameShape": "square","modelSize": "50","sizeLensBridge": "50 22","skuGridValue": "902 ","resolvedSkuGridLensBridgeVal": "RB2140","producType": "SUN","productCategory": "SUN","frameColor": "","virtualMirror": "","templeLength": "150","hurryUpValue": "","partNumber": 805289126638,"style": "0RB2140902 50","configToken": "F9554746-78D2-4380-8FA2-9401D23A80E3","price": "$190.00","lensDescription": "crystal green solid color","frameDescription": "acetate","shortDescription": "ACETATE UNISEX SUNGLASS.","styleImpInfo": " SOLID COLOR ","onSaleVal": "FALSE","offerPrice": "$190.00","listPrice": "","availabilityMessage": "Order now and receive by","availabilityDate": "03-14-2014","availability": "0","availabilityQty": "","buyable": "1","buyableqty": "134","virtualMirrorID": "rayban_rb2140_original_wayfarer_classic_tortoise_902","linkDetailsView": "http://www.ray-ban.com/canada/en/sunglasses/0RB2140-original wayfarer classic-/805289126638","pdpMoreDetails1": "Can't find your size? ","pdpMoreDetails2": "Contact","pdpMoreDetails3": "our Customer service."},"0RB2140902/N1_50":{"catentryId": "39667","selectedSize": "50","styleSizes": { "size": [{"-code": "50","-SKU": "0RB2140902/N1_50","-sizeLensFormatValue": ""}]},"polarized": "FALSE","lensTreatment": "GRADIENT","frameMaterial": "acetate","frontInnerColor": "TORTOISE","frontOuterColor": "tortoise","templeInnerColor": "TORTOISE","templeOuterColor": "tortoise","lensColor": "blue","frameShape": "square","modelSize": "50","sizeLensBridge": "50 22","skuGridValue": "902/N1","resolvedSkuGridLensBridgeVal": "RB2140","producType": "SUN","productCategory": "SUN","frameColor": "","virtualMirror": "","templeLength": "150","hurryUpValue": "","partNumber": 805289887768,"style": "0RB2140902/N150","configToken": "F71623EF-6B76-474E-8426-2F9AA4F4A573","price": "$195.00","lensDescription": "crystal gray gradient pink gradient","frameDescription": "acetate","shortDescription": "ACETATE UNISEX SUNGLASS.","styleImpInfo": " GRADIENT ","onSaleVal": "FALSE","offerPrice": "$195.00","listPrice": "","availabilityMessage": "Order now and receive by","availabilityDate": "03-14-2014","availability": "0","availabilityQty": "Hurry,only 2 left.","buyable": "1","buyableqty": "2","virtualMirrorID": "rayban_rb2140_original_wayfarer_classic_tortoise_902_n1","linkDetailsView": "http://www.ray-ban.com/canada/en/sunglasses/0RB2140-original wayfarer classic-/805289887768","pdpMoreDetails1": "Can't find your size? ","pdpMoreDetails2": "Contact","pdpMoreDetails3": "our Customer service."},"0RB2140902/51_50":{"catentryId": "39736","selectedSize": "50","styleSizes": { "size": [{"-code": "50","-SKU": "0RB2140902/51_50","-sizeLensFormatValue": ""}]},"polarized": "FALSE","lensTreatment": "GRADIENT","frameMaterial": "acetate","frontInnerColor": "TORTOISE","frontOuterColor": "tortoise","templeInnerColor": "TORTOISE","templeOuterColor": "tortoise","lensColor": "brown","frameShape": "square","modelSize": "50","sizeLensBridge": "50 22","skuGridValue": "902/51","resolvedSkuGridLensBridgeVal": "RB2140","producType": "SUN","productCategory": "SUN","frameColor": "","virtualMirror": "","templeLength": "150","hurryUpValue": "","partNumber": 805289183082,"style": "0RB2140902/5150","configToken": "FA32C350-0C17-458B-AB06-04CA0A883A71","price": "$200.00","lensDescription": "crystal brown gradient gradient","frameDescription": "acetate","shortDescription": "ACETATE UNISEX SUNGLASS.","styleImpInfo": " GRADIENT ","onSaleVal": "FALSE","offerPrice": "$200.00","listPrice": "","availabilityMessage": "Order now and receive by","availabilityDate": "03-14-2014","availability": "0","availabilityQty": "Hurry,only 2 left.","buyable": "1","buyableqty": "2","virtualMirrorID": "rayban_rb2140_original_wayfarer_classic_tortoise_902_51","linkDetailsView": "http://www.ray-ban.com/canada/en/sunglasses/0RB2140-original wayfarer classic-/805289183082","pdpMoreDetails1": "Can't find your size? ","pdpMoreDetails2": "Contact","pdpMoreDetails3": "our Customer service."},"0RB2140902/57_50":{"catentryId": "39734","selectedSize": "50","styleSizes": { "size": [{"-code": "50","-SKU": "0RB2140902/57_50","-sizeLensFormatValue": ""}]},"polarized": "POLARIZED","lensTreatment": "SOLID COLOR","frameMaterial": "acetate","frontInnerColor": "TORTOISE","frontOuterColor": "tortoise","templeInnerColor": "TORTOISE","templeOuterColor": "tortoise","lensColor": "grey","frameShape": "square","modelSize": "50","sizeLensBridge": "50 22","skuGridValue": "902/57","resolvedSkuGridLensBridgeVal": "RB2140","producType": "SUN","productCategory": "SUN","frameColor": "","virtualMirror": "","templeLength": "150","hurryUpValue": "","partNumber": 805289126652,"style": "0RB2140902/5750","configToken": "9BFA09A1-6FBE-4FB5-9283-71C4B8888843","price": "$250.00","lensDescription": "polarized, crystal brown polarized solid color","frameDescription": "acetate","shortDescription": "ACETATE UNISEX SUNGLASS.","styleImpInfo": " SOLID COLOR ","onSaleVal": "FALSE","offerPrice": "$250.00","listPrice": "","availabilityMessage": "Order now and receive by","availabilityDate": "03-14-2014","availability": "0","availabilityQty": "","buyable": "1","buyableqty": "50","virtualMirrorID": "rayban_rb2140_original_wayfarer_classic_tortoise_902_57","linkDetailsView": "http://www.ray-ban.com/canada/en/sunglasses/0RB2140-original wayfarer classic-/805289126652","pdpMoreDetails1": "Can't find your size? ","pdpMoreDetails2": "Contact","pdpMoreDetails3": "our Customer service."}}
http://assets.ray-ban.com/is/image/RayBan/
_shad_qt?$594$
Ray-Ban 0RB2140 - ORIGINAL WAYFARER CLASSIC
SUN